Join the BTA and support our work to transform communities by making bicycling safe, convenient, and accessible.
Every time you ride to work, to a meeting, or to the grocery store, you are helping power the movement toward safer streets and better biking. Your BTA membership adds even more strength to our collective action.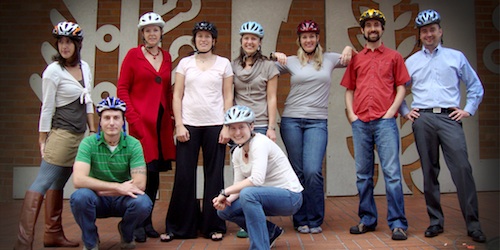 Helmets? Check. Team Fluid Market Strategies is ready to ride!

Plus, BTA members receive discounts at more than 120 bike shops, restaurants and businesses around Oregon-- along with exclusive news, event invitations, and more.
The Bicycle Transportation Alliance is a 501(c)3 organization, tax ID #93-1057956.
MORE WAYS TO GIVE: MAKE A PLEDGE FOR YOUR BUSINESS
Ecova pledged $5 per bike trip logged by the team in September 2011.
Grand Central Bakery pledged $.50 per mile their team logged in September 2011.
Join these fabulous businesses by making a pledge today. Pledge per commute, per rider, or per pound of CO2 saved. Benefits for your business include:
Your company recognized at the Bike Commute Challenge awards party in October
Listing in BTA annual report and member communications
BTA social media promotion
Zipcar discounts
Bike parking assessments from Rack Attack
And more!
Questions? Contact Kate Walker at (503) 226-0676 x20.