How does it work?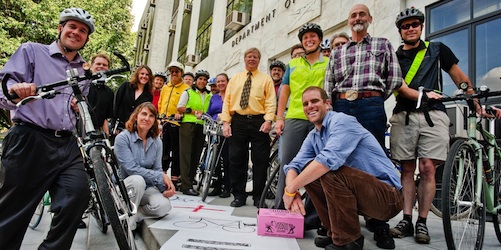 The Oregon Department of Transportation Team prefers donuts as their fuel source.
How it works
Anyone interested in taking the Challenge looks to see if their workplace is already registered. If it isn't, they register themselves and their workplace team at the same time. They become the Team Captain, by default.
Their coworkers register and join that workplace team.
Everyone logs their bike trips during the month of September.
At the end of the month, the BTA tallies the bike trips and ranks all workplaces in size categories by the percentage of commutes achieved by bike.
On October 7th, the BTA announces the winning companies in each category at a big Challenge After Party. Join us!
-------------
What a Team Captain does
By default, the first person to register a company becomes the Team Captain. This can easily be changed later.
The Team Captain has "administrative" abilities on the website - they can add and delete team members, change passwords, email the entire team, and more. The Team Captain may also take on some social responsibilities at the workplace, organizing bike commuters' events or benefits with their company. And if these two jobs are best done by separate people, we can easily add a Co-Captain to any workplace team.
At companies with an official transportation coordinator, it may make sense for that person to be the Captain or a Co-Captain for the Bike Commute Challenge.
---------------------
How we do the math
The number that determines who wins the overall Challenge in each size category is "percent of commutes done by bike."
This is how we calculate that number for each workplace:
Participants tell us how many days in September they worked and how many of those days they biked. We assume that all the non-participating employees at the workplace work the same average number of days in September.
rider commute rate = number of trips logged / number of trips they could have made, given their work schedule
Bike commutes taken by employees who are not participating in the BCC are not counted. A deviation between the average work schedule of BCC participants and that of their non-participating coworkers cannot be counteracted (this is a good reason to get a variety of employees to participate).
team commute rate = sum(team_member_rates) / total_number_of_employees
---------------------------------
What counts as a "bike commute"?
In keeping with our goal of introducing more people to the joys of biking, we have made it easy for people with longer or more difficultcommutes to participate in the BCC.
A "bike commute" can be:
Riding both ways to work by bicycle
Riding one way to work by bicycle (and the other way by any other mode)
Riding part way to work by pairing biking with transit, driving or any other mode
If you are not biking all of the way to work, count only the one-way mileage of the bicycling part of your commute when you enter your one-way commute distance.
What counts as a work day?
Any day that you work and make some kind of commute should be counted as a workday on your calendar, even if you're commuting somewhere other than your usual work locaton. Sick days, vacation days, or days that you telecommute can be counted as non-work days on your calendar as there was no commute.
------------------------
Challenge categories
Workplaces are divided into the following size and type categories based on information given us by Captains. To see how results are sorted within catgories, look at last year's results.
Businesses and Non-Profits, 1 employee
Businesses and Non-Profits, 2-4 employees
Businesses and Non-Profits, 5-24 employees
Businesses and Non-Profits, 25-99 employees
Businesses and Non-Profits, 100-499 employees
Businesses and Non-Profits, 500+ employees
Public Agencies, 1-24 employees
Public Agencies, 25-99 employees
Public Agencies, 100-499 employees
Public Agencies, 500+ employees
Bike Shops, 1-8 employees
Bike Shops, 9-15 employees
Bike Shops, 16+ employees
------------------------
About this website
Designed and developed by Switchyard Creative and LoFi Art based on original design and development by Metaphor Lab, Grapheon and Web Collective.
If you are interested in acquiring a copy of this site to use for your challenge, contact the Bicycle Transportation Alliance.