What's in it for me?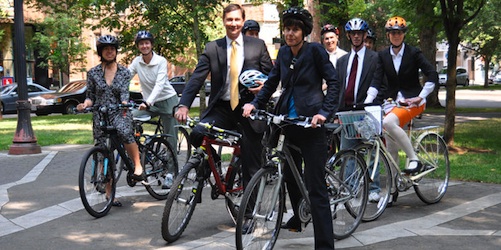 The Oregon Department of Justice Portland Office Team knows how to dress for a bike commute.
Benefits for Challenge participants:
Resources: New bike commuters in the Challenge have access to online and personal resources to help them have a fun and safe first commute.
Exclusive PDW Discount: Anyone who logs seven bike trips in the month of September is eligible for special 15% discount at Portland Design Works.
Prize Drawings: At the end of each week in September we'll have regional prize drawings for anyone who has logged at least one trip that week.
Fun: The Bike Commute Challenge is a fun excuse to organize activities with your coworkers, at or away from the office.
Glory! See prior years' results to check out the competition.
Benefits for bike commuters:
Biking improves your health: national health statistics show that when you're more active, you decrease your risk for cancer, heart disease, obesity and diabetes.
Bike commuting improves your mood: most bike commuters report that a little exercise and fresh air at the beginning and end of their work day improves their mood at work and at home.
Bike commuting saves you money: with gas costing $4 a gallon and overall annual car ownership costs averaging $8,000, getting around by bike can free up money in your budget for other things.
Bike commuting keeps CO2 out of the atmosphere: about 37% of Oregon's carbon emissions come from transportation; cutting down on your motorized trips can help you reduce your carbon emissions and move us one little step closer to slowing down climate change.
Benefits for companies:
Bicycling is good for individual employees, but it can be good for a company, too - from creating happier, healthier employees to improving the bottom line:
Bicycling reduces stress and anxiety, and makes for happier employees.
Absentee and turnover rates are lower among physically active employees (National Center for Health Statistics).
Companies spend less on health care when they invest in programs promoting physical activity: one Blue Cross/Blue Shield study showed a savings of $2.45 per dollar allocated to fitness and wellness programs (Management Review, Aug. 1989, p. 37).
Bicycling reduces parking costs: Bicycle commuting can play an important part in reducing car trips to work, which reduces parking costs - a reserved car parking spot in the central city can have an annualized capital and operations cost of $12,000, as opposed to $1,000 for secure bicycling parking.
Encouraging bike commuting can help a company comply with the Department of Environmental Quality ECO Rule and save money through the Business Energy Tax Credit (see below).
Department of Environmental Quality ECO rule program
The Employee Commute Options (ECO) rules affect employers in the Portland area with more than 100 employees reporting to a single work site.
Affected employers need to establish a baseline by conducting an employee survey of current commute patterns. Then they should create a plan to reduce the number of "drive alone" trips and submit the plan for DEQ approval. The goal is to reduce single driver commute trips to the work site by ten percent within three years. Annual employee surveys are used to measure progress toward this goal.
Typical employee commute programs include transit subsidies, carpool matching, preferential parking for carpools, compressed workweeks, telecommuting and bike/walk programs. Many companies offer a guaranteed ride home for personal emergencies.
For more information contact the ECO Information Clearinghouse at 503.229.6918 or visit the DEQ website.
Business Energy Tax Credit — A financial reward for reduced car trips
The State of Oregon Office of Energy offers a Business Energy Tax Credit (BETC). Eligible projects include:
Bicycle projects (such as showers, lockers or parking)
Incentives that encourage employees to use alternate transportation
Transit passes or transit subsidies for employees
Equipment and services that allow employees to telecommute
Vehicles for vanpooling, carpooling, or shuttles
The tax credit is 35 percent of eligible costs, taken over five years, 10 % in the first and second years, and 5% each remaining year. If the total project costs are $20,000 or less you may take the entire tax credit in one year.
In Oregon, any business that pays income taxes is eligible for the tax credits. The first step is to complete the Business Energy Tax Credit Application for Preliminary Certification and the Supplementary Information Form for transportation projects and send it to the Oregon Office of Energy. You will receive a preliminary certificate. If you finish the project, you can apply for a final certificate and claim the credit.
For complete details on how to get the energy tax credit contact the Oregon Department of Energy at 800.221.8035 or 503.378.4040 or visit the DOE website.